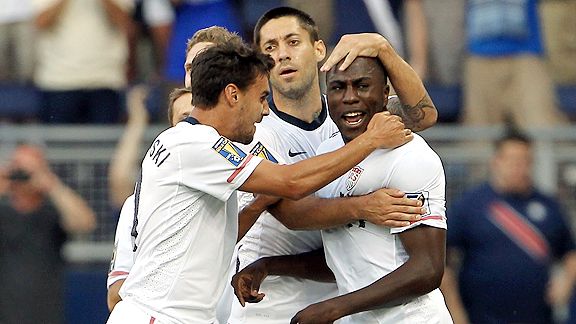 -
Steven Emil Cherundolo
. Stand up and take a bow. On second thought, you look kinda tired dude, just chill out for a minute. For my money, Dolo is the US MVP through three games at the Gold Cup. Incredible runs down the right flank all game long, more breathlessly point-perfect crosses at full sprint than I care to count, a sternness in defense that wiped off attack after attack, and seemingly no ill effects of fatigue that we could see. Brilliant, sir. I'll just pretend he's like 24 and go about my day tomorrow a little brighter.
- On the other side of defense,
Eric Lichaj
took a nice step forward in assuming future LB duties, a possible godsend for a position that's been stupid hard to fill over the years. He at least earned himself another look against a better side. Guadeloupe's attack was toothless, yes, but credit the back four for keeping it that way. Lichaj bodied attackers with aplomb, displayed probably the best speed on the field on ball and made some incisive runs. At the least, he kept Tim Ream off the bench for the Jamaica quarterfinal. Ream, for the record, was not kept in Bobbo's 18 on Tuesday. You know, for the record.
- Say what you will of
Landon Donovan's
consistency, but he never fakes it. He never stops making runs, flicking on careful through balls and making himself available. I'm not convinced that he's always as integral as some believe, but few can doubt his motor.
Cannot say the same for
Clint Dempsey
. Clint's been my favorite Nat for a long time, partly because he's a fellow Texan but mostly because he displays the kind of flair we so rarely see from US players. Simply put, he can produce moments of magic on ball that few players in the history of this country can match. I thought he was the best player on the field for moments of the Canada and Panama matches, but Tuesday was a case study in why he's so maddening at times. He was miserable in the final third for most of the night, flubbing chances, chipping through balls to nobody and going completely AWOL in the final 15 minutes. I understand you're tired. Everybody's tired. But did you watch Dolo? No excuses, play like a champion.
Case in point was his inability to convert a tidy set-up from Bedoya that fell right to his feet
inside
the six-yard box midway through the second half. The game just ended, so unfortunately no video as of yet, but I'm sure it'll be plastered all over the place soon enough. It looked like Demps had a crush on the ball and refused to give it up, gazing longingly into its beautiful stitches as a Guadeloupe defender brusquely swept in and cleared the ball from right under Clint's nose maybe a foot from the line. Stupid, stupid, stupid. He's had detractors needling him for years about seeming sleepy during key moments. Tuesday's performance will not help those perceptions.
- So many chances blown, but the one that was taken didn't even seem like a chance. Jozy's laser-guided warhead early in the first half was a strike from on high, I swear. So, so many people are thinking,
Where the crap has that been
? Fair reader, I do not know, but I hope it's here to stay.
- All in all, the phrase
good enough
springs to mind. Not as good as it should have been, not as bad as it very well could have been, but good enough. In the end, Mexico (and even unbeaten Jamaica) have to be chuckling over a 1-0 win over lowly Guadeloupe, but all that mattered was advancing. Style points are nice. A fourth game is better.
Get back to work, J-Kreis. We don't need you just yet.
- Will Parchman