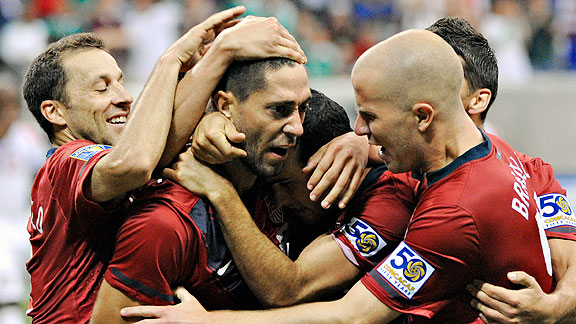 HOUSTON
- This is not a revenge tour.
Every U.S. player insisted as much, noting that Panama was simply another blip on the map en route to a workmanlike, whirlwind tour through five U.S. cities and counting. If they should face Mexico in the final, so be it. To hear them tell it, the 2009 final is ancient history. Wednesday was not about vengeance, it was about advancement.
But the celebration after the match, the chippiness of the game, the determined attitude -- all these things gave it away. This one was personal.
The 1-0 win over Panama thanks to Nacogdoches native Clint Dempsey at Reliant Stadium was the very definition of gritty. Immediately post-match, by mistake or Freudian slip, the official stat sheet didn't list a shot on goal by either team. There were flowing moments, but they were rare. It was a herky-jerky game with oceans of tension and very few release valves.
So says Bob Bradley: "It was a hard game for sure. In all ways, I thought that the mentality of the group was looking for ways to win. In the first half, I thought in stretches we had pretty good rhythm with the ball. The second half got harder. Panama did a good job keeping things very tight. Now you have to look for different ways to win the game. Defensively they're solid and I felt we put a very good play together to score a great goal."
But onto the match.
Playing without shifty forward Blas Perez, who knocked himself out with a needless red card outside the run of play in the quarterfinal, Panama coach Julio Dely Valdez effectively deployed Luis Tejada as the lone advanced striker and kept Nelson Barahona in the hole as the idea man.
It bore little fruit.
"We knew it was going to be an important miss for us," Valdez said. "(Perez) is an important player for us. But his absence wasn't necessarily felt. It was a very complicated and closed match, and we felt like whoever had the most opportunities would move on."
Unlike the shaky Tim Ream-Clarence Goodson collaboration at center back, which proved to be such a disaster in the first meeting, Panama was greeted with the much surer, much sturdier Carlos Bocanegra up the spine, and Los Canaleros got their first taste of Eric Lichaj's pace and bull-headedness on the left flank. They did not deal with it well.
"(Goodson and Bocanegra) play very well together," Tim Howard said. "They seem to have a good rapport. Their body language and communication is very good. Carlos is obviously a true veteran. He's solid and brings in good performances every game. That's been important for us."
As such, Panama's only two chances of the first half were hardly better than half chances, Tejada teasing a low cross to nobody across Howard's face and Barahona beating the crossbar with a high free kick in stoppage time. The imperative in the second half was obviously to build possession and get off more shots, but Panama did neither frequently.
There were, however, a few moments of breath-baiting danger. Panama finally emptied the cabinet in the final minutes, holding just two players back while the rest pinned back their ears in search of Howard's net. Panama's best opportunity, before Dempsey's now trademark sliding goal in the 77th, was a shot that Angel Reyna burned over the net in the 71st that Howard got a few fingertips to. Other than that? Lots to be proud of from what finally seems to be a back line to keep around.
On the other end, the ever advancing US attack struck a familiar chord in the opening half. If not completely lacking in conviction, it did lack the necessary inspiration inside the area. A few chances, no goals. We've heard the story before.
With Landon Donovan again on the bench to start (which we'll get to later), Alejandro Bedoya slotted in on the right side and did a respectable #10 impression, creating the two most dangerous opportunities of the first half on crosses. After half, Bob Bradley finally brought on Donovan (who should've started, but again, getting ahead of myself). Donovan, who thankfully swapped out the swooning Sacha Kljestan, shifted things a bit, moving Dempsey into the hole behind Agudelo and putting Bedoya and Donvan on the wings. Finally, Freddy Adu (!!!!!) subbed in for Agudelo in the 66th minute, moving Dempsey up top and Adu into the trequartista role, where he performed admirably, as I'll touch on in an article soon to be posted.
Which brings me to the Donovan situation. Bradley admitted to Donovan's fitness. There were no red-eye flights to contend with, no weak legs after Donovan put in only about 25 minutes on Sunday. So why rest him as a supersub when he is, by most accounts, one of the best conditioned athletes in U.S. soccer history?
Here are some thoughts from a sympathetic Tim Howard: "You look over on the touchline and you see him coming on and you think, 'That's awesome for us.' And I know they're looking at it thinking, 'That's not what we want.' It's hard. It's not easy. He's still a superstar for us. At the moment, it's a shame for the last two games that he's had to come on as a sub. It's not easy. It wouldn't be easy for me."
Bradley was pensive about it in the postgame presser. When asked about it initially, he stared into the middle distance for a moment, began talking and fell into silence again to organize his thoughts. Whether they were any good? You be the judge.
"We talked as a team," Bradley said. "We felt that we had a good game against Jamaica and it made sense to build on that... Landon has a great attitude about doing what's best for the team."
Bradley went on to add, "Hristo Stoichkov didn't agree with everything I did. But we're still talking."
- Will Parchman