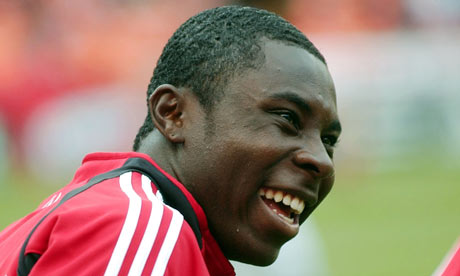 It's a good time to be Freddy Adu
HOUSTON
- Over a period of six long, interminable months after the 2010 World Cup, Freddy Adu's professional career hit rock bottom.
After signing with MLS at 14, Adu played under the banner of five clubs in five years, and on Jan. 6, 2010, he was finally dumped onto Aris' doorstep, a Greek outfit in Thessaloniki that must have seemed worlds away from the gilt-edged future so many had dreamed for the youngster.
But even that eroded away.
"After I was at Aris for six months, I went back and everything fell apart and I didn't have a team," Adu said. "I went on a few trials and they weren't looking for a player like myself. It was definitely tough."
The trials, like so many other facets of Adu's career, fell apart at the seams. Switzerland's Sion took a pass. Denmark's Randers followed suit. A briefly rumored L.A. Galaxy move never materialized either.
Disheartened, Adu returned to the U.S. training facility in Bradenton, Fla. and spent the next two months putting himself through brutal two-a-days to limber up for an opportunity, however small, that he could resurrect his career. Finally, in what must have looked like a ray of brilliant sunshine, Turkish second-league outfit Rizespor stepped into the breach and extended an offer in February.
That move very well might have resurrected a career that many had abandoned. If Adu was never really here, he may be now.
"In tournaments like this, you need every guy," Michael Bradley said. "Credit to Freddy, he's done a really good job since the first day of camp of keeping himself going and keeping himself sharp and ready for his chance. He came on and certainly did a really good job of just finding the game quickly."
Did he ever. Adu's perfectly weighted pass to Landon Donovan in the 77th minute Wednesday unlocked Panama's stifling defense and opened up the run that led to Clint Dempsey's game-winner. It wasn't a fluke, either. Adu put in a strong 24 minutes in relief, proving that Bob Bradley might not have been so crazy for pulling the trigger.
It is surprising to most that Adu, arguably the most hyped American soccer player in history, is still just 22. At 14, he was the U.S.'s answer to Pele. At 18, he was already an afterthought. Finally, after scoring four goals during his brief loan spell Rizespor, a small, isolated Turkish outpost in Rize along the Black Sea, Bob Bradley saw enough from Adu that he earned a surprise call-up to the U.S. camp for the Gold Cup. Not everybody understood the move.
"Freddy's been in with the national team a good number of times," Bob Bradley said. "Some of those situations, it didn't go as well as he would have hoped. I think he's matured. When you see a player go to the second division in Turkey to keep things going in his career, that tells you something."
But all was not well pre-Gold Cup. Adu's slow start to camp kept him out of the playable 18 until the quarterfinal against Jamaica, and many even chalked up his inclusion to the 18 against Panama to the absence of injured striker Jozy Altidore.
"He didn't start out this camp great," Bob Bradley said. "There were days early on where, again, regaining confidence, the speed sometimes in training. There were a lot of days where it didn't go great. But you could see over time that it was starting to get better and better."
But there was Adu in the 66th minute, limbering up just feet from Bob Bradley, a "20" flashing above his head on the assistant's board. Few would argue he wasted the chance. If anybody appreciates the opportunity, it's Adu. He hadn't played in a USMNT game since the last Gold Cup, nearly two years ago to the day.
Another crack at El Tri on Saturday would be nice. For now, Adu is enjoying the ride. Finally.
"When you haven't been here for a while and you have the chance to be here, you really appreciate being around the guys and just being on the national team, you know?" Adu said. "And just knowing you really have to earn it. But once you get in, you have to keep working hard and compete."
- Will Parchman