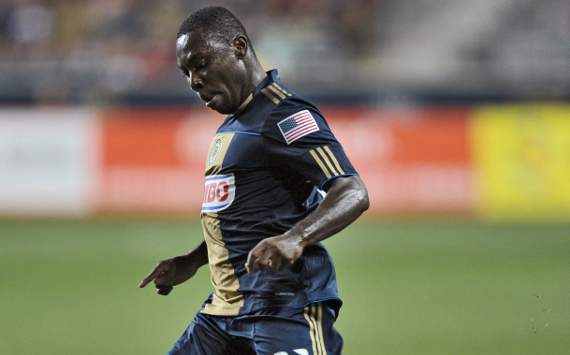 No game of the week today. In the interest of keeping things fresh, I bring you The Big Story. The much heralded and somewhat triumphant return of Freddy Adu. Resembling a conquered and humbled warrior returning home with head bowed and shield in hand, the next year or two will be the most important period in Adu's lengthening career.
As recently as six months ago, this news would have puzzled a wide variety of MLS pundits and sent Union message boards into a state of impassioned debate. At best, it would've been met by a few curious shoulder shrugs and some raised eyebrows.
As I noted in June
after the Gold Cup semis, Adu had been in the European wilderness for five years searching for a worthy escape valve. Club move after move crashed through the basement floor as his Benfica deal curdled to worsening shades of gray. Given the chance to play somewhere, anywhere, Adu excitedly signed a loan deal to miniscule Turkish outfit Rizespor, one of the few sides to dangle out the carrot of assured playing time. By any measure, it represented a firm tug on Benfica's oppressive leash. It wasn't an escape hatch, but it was close. Now he only had to play up to that handsome potential we've all so onerously yoked onto his shoulders.
A number of us all but gave up on Adu once already. So what changed? Why is this being heralded
by fans
and
journalists
alike as an adroit move that may steal the show on my year-end Top 5 Signings list? What began with his rising form during a spring in Rize turned into two promising USMNT caps in Houston and Pasadena. That, it seems, has turned Adu's career around in a flash that makes Manchester City's rise to the fore of the EPL seem like an agonizing eon. Which it has been. But I digress.
Adu wisely turned down a number of reported offers in Europe for the promise of consistent minutes in MLS. And he did it to play for his former DC United boss, Piotr Nowak, with whom it was widely reported he shared a contentious relationship in their first go-round. Tensions bubbled over publicly when Nowak suspended Adu for a game in 2005 after a then-16 year old Adu complained to the media about playing time. As Adu returns to Philly with his cap in hand and a fresh start in mind, making comparisons to those long-ago days are a waste of space. New Adu, new Nowak.
This kind of shrewd decision-making from the 22-year-old wanderer marks a turn in his career. His move to Benfica was driven by the boyhood idolization of European promise, not practicality. Yes, it is hard to turn down the chance at European minutes at a Big Club. And yes, it is even easier to snipe at those decisions after the fact. But the results bear out just this: Adu was a kid making man-sized decisions. He's now a man, and this Union deal proves he's done more than a little growing up overseas.
But it means nothing if he doesn't turn Philly into the trampoline that leads him back to either European minutes or national team success. Either way, I think I speak for all of us when I say, welcome back Freddy. It's been a while.

And here's this... in Adu's debut, his Union walked out of PPL Park with a point after a respectable 2-2 draw against FC Dallas. By most accounts, it was a bright start. One thing is crystal: Paired with Philly's defense, Adu's addition makes Philly even more of a danger in the East than they already were. Look out.
Best of the Best
- Since I've made bagging on Toronto a rite of summer, I've opted to
highlight their 1-0 win
last weekend, not RSL's loss. Though this does raise further questions about RSL's surprisingly bad recent run of form (three losses in five), this might finally jump-start a positive swing from Aron Winter's Ajax-informed 4-3-3 project. And this despite the fact that RSL will probably feel wronged by the scoreline. Amazingly, despite collecting just their fourth win of the season, the second-lowest total in the league, the Reds are still in contention for a playoff spot. They'll have to start rolling up wins, of course, but the season's not dead and buried yet. Oddly enough. MLS has gotten lazy about posting up individual goals this summer, so I'll have to point you again to the full highlight reel. Joao Plata's goal is at about the 5:00 mark.
- As the blurry playoff picture begins to take a more defined shape, Eastern-leading Columbus, a team without an all-star, continues to barge into the playoff picture like Cosmo Kramer, all gangly arms and elbows but with an irresistible charm that doesn't shake off. Midfield traffic cop Eddie Gaven missed the Crew's weekend meeting against struggling New England, which forced Josh Gardner into spot kick duty. With New England holding a 1-1 edge in the second half, Gardner popped in a corner that found defender Julius James, who skipped his header in for the ultimate game-winner in a 3-1 triumph.
It has become a recurring theme, this ability to use every able body to churn out results in every fashion imaginable. A goal differential of +4 won't turn any heads, and yet these kinds of teams are most dangerous come playoff time. Its not always attractive - Columbus has 19 assists, second-worst in the league - but it is blindingly efficient. And the Revs suck. So that helps. And hot damn, does Thomas Heinemann have one killer neck beard or what? He also has the slickest nickname in the biz: Teen Wolf.
Worst of the Worst
- With Sporting KC off last weekend, Omar Bravo's had a lot of time to think about this minute-long, childish torrent of garbage. I haven't been able to trawl up anything on whether Bravo will serve any time for the display, i.e. missing KC's upcoming match with United, but I wouldn't shout down Garber for doing it.
Hard to top that. Worst of the Worst award of the year thus far goes to Mr. Bravo. And you beat out Marcos Mondaini and Brian Mullan. Take a bow.
- Dallas was held to a draw in Philly, giving Seattle a prime opportunity to climb into sole possession of second in the West with a win over middling Chivas. But oh those pesky penalties (skip to 2:10).
A lifeless 0-0 draw kept Seattle from leapfrogging FCD, so Dallas' draw means they keep a one-point lead for No. 2. Dallas and Seattle both open Champions League group play at midweek and then turn around and face each other on Saturday in an important battle for second place. Mark your calendars.
- DC United put four goals past listless Vancouver, which is already pining for the Martin Rennie era to begin. Rennie, who was tabbed the Whitecaps' new boss last week, reportedly chose Vancouver in part because of their residency program, which sounds nice until you realize he'll basically have to stock the thing himself. Not all bad, of course. Except when he watches the highlights of
this doozie
and realizes how far he has to go when he takes over next year. And as for Andy Najar's goal... really guys?
-
Will Parchman