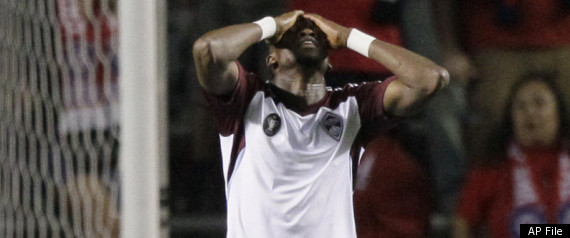 I feel ya', Kandji
Incredibly, MLS has fallen from an 8-1-1 in the CONCACAF Champions League to 10-8-2 overall in two weeks. We talked last week about the fall back to earth being a little more of what we expected. This? Not so much. FC Dallas being run out of Pizza Hut Park by Pumas, the Galaxy failing to muster a goal with Becks in the lineup away at
Alajuelense
, the Rapids falling all over themselves defensively in a 2-1 loss to Real Espana, Seattle tripping 1-0 at home against Herediano... what's to like?
And you mean to tell me TFC, a 1-0 winner over Tauro, was the only MLS team to salvage so much as a single point from the week? Now I
know
we're in the twilight zone.
This is as good a time as any to touch on TFC's No. 14, Danny Koevermans. What the 32-year old Dutchman has done since joining hapless TFC in July has been no small feat. Six goals in seven MLS appearances and his first in CCL action this week to drop Tauro and breathe life into TFC's Champions League campaign. It is, after all, about all they have left to play for.
It is apropos that Greg begins a series on the Dutch principles of the 4-3-3 as we take the magnifying glass to why it is that Koevermans works in Toronto. His deft header in the 40th minute on Tuesday illustrated a number of his finer points as a tactician carrying on the precepts of Dutch positioning and mentality. TFC's 4-3-3 has understandably been in ruins without a goal poaching threat, and it has never had a rugged target forward. Like a thief in the night, enter Danny Koevermans.
On its brightest days the 4-3-3 is almost instinctual in its ability to cultivate chances among its uppermost attackers. There are different ways to go about it. Most notably, Robin van Persie for Arsenal and Leo Messi for Barcelona both play most often at the tip of the spear as a false nine, dipping back to collect feeder balls and make diving runs into the channels created by stretched space. When David Villa plays up top for Barca on occasion, he acts as more of a target forward, taking on central defenders and allowing his wingers to crowd space and cross up defenders. Koevermans can do both, but at his advanced age he's best used as a Villa. It was this role that allowed him to fade in and out of his central attacking position and give TFC more chances Tuesday than it had any right to expect a mere three months ago. The addition of Torsten Frings as the destroyer creates more room, a critical component that allows the attackers to flow forward organically with fewer reservations. Of course, when you talk about this formation you talk mostly in generalities, because unlike most formations it is only as good as the creativity it allows and the vagaries it forms between who is really where. While Koevermans isn't the spry goal-getter he was even a few years ago, he fits this system well. It was an incredibly shrewd get by TFC's war room.
When done correctly the 4-3-3 is a beautiful thing, a piece of true attacking elegance in a world in love with brutish, unkempt catenaccio, and it seems Koevermans and Winter have a true conception of the ideal. It doesn't mean TFC is anywhere close to achieving it, but it at least remains a glowing ember in the distance for the MLS Dutch experiment. That's enough for me. MLS has been wary of the 4-3-3 since its inception, most teams preferring to stick with a more familiar 4-4-2 and its battle-ready variations. With the advent of Claudio Reyna's youth program and Jurgen Klinsmann's breathtaking ability to not be Bob Bradley, I have a feeling this is something we'll be seeing more of in the future.
BUT, TFC is still an outsider in Group C. The Reds' win combined with FCD's blah performance does narrow the gap though, bringing TFC within a point of second. TFC has Pumas next week and FCD in mid-October. There is still much work to be done on that front.
-
The Sounders lost to previously winless Herediano. That did happen, yes
-
Another game in Central America, another miserable field. Sorry, LA
-
So this is Pumas' retribution or some such madness
-
Colorado... facepalm. Only four starters though
-
Will Parchman