We are falling deeper into the mineshaft of the 2011 MLS offseason. It's usually about this time - maybe more around Christmas - that things feel the darkest, as most other world leagues are just kicking into gear and we are left with a barren, windswept plain where our soccer once was.
But fear not, intrepid travelers, for into the breach I step. Today begins a four-part series breaking down the 19 MLS teams and their offseason outlook. Here's how this works. I'll split the conferences in half and do a five-team capsule (one of which will be four teams) on each. The breakdowns will include where each side is set, where they need work and then a final degree of difficulty rating on a 1-10 scale (1-3 being green, 4-6 yellow and 7-10 red for those jobs requiring a machete to bushwhack through the underbrush). I have no rigid schedule, but I hope to get these out one every few days as time allows. We start our offseason tour with the West's big dogs, presumably the five with the least to do before the openers on March 10.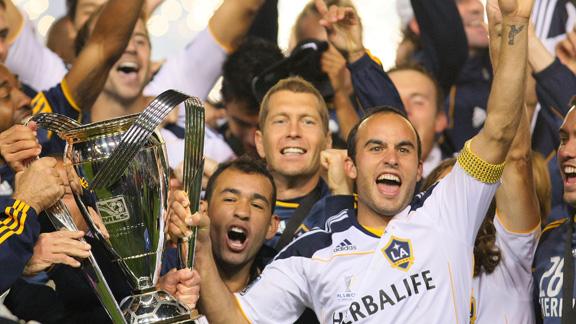 LA Galaxy
How they finished:
19-5-10; 1st in the West; MLS Cup Champions
Where they're good:
The Galaxy have one of the league's top 3 players at each tier in Robbie Keane, Landon Donovon and Omar Gonzalez. Donovan Ricketts has left for Montreal but there was a kernel of truth to the argument that Josh Saunders was a better fit even after Ricketts got healthy, the padawan finally becoming the jedi. And that's not even mentioning guys like Juninho, Todd Dunivant, AJ DeLaGarza and Mike Magee. Donovan is still living off the four-year deal he inked in 2009, Keane still has a year left on his and Beckham's assumed departure will free up the third DP slot (and oodles of cash) for the most enterprising front office in the league. The Galaxy, who have pioneered the use of the DP, have no reason to fret. If Beckham stays, an increasingly unlikely proposition but not impossible, all the better.
What they need:
Nobody has a clue how Beckham's departure will settle in LA. Beckham had only had a marginal impact on the Galaxy's W/L until this year when he finally registered a suitable assist tally for his skill set and won a title. So it would make sense if, barring some other losses, LA comes out just fine without the aging Englishman. Whether it's realistic to expect a team to be any better without a guy who is still arguably the world's best from set pieces is another matter, and maybe a bit foolish. The Galaxy could use strikers. Injuries or not, that it ever came down to Bruce Arena starting Adam Cristman in the MLS Cup is a joke. If Arena stays wedded to a two-forward format, the Galaxy need to give Keane some help. The JPA experiment failed, but I'd be willing to go for another pass at a DP-level striker if I'm LA. Either way, the Galaxy brass have to feel like a kid in a sweets shop every offseason. This one is no exception. This is a #1 in the deepest hue of green possible.
Degree of difficulty rating
:
1
Real Salt Lake
How they finished: 15-11-8; 3rd in the West; Western Conference finalists
Where they're good: Hand it to Jason Kreis and RSL's tremendous front office: after some lean times, the Royal Mormons are here, presumably for a lengthy stay near the top. RSL rightly built with an eye toward defense, and they were rewarded this year when Nat Borchers and Jamison Olave were two of the three defender of the year finalists and Nick Rimando was fourth in keeper of the year voting. Kyle Beckerman is the heart and soul here, cementing RSL's holding positions as the steadiest in the league. RSL played most of the year without Javier Morales and still had some attacking bite. I'm still shaking my head at Alvaro Saborio's no-look goal in the 3-0 whipping of Seattle, so it's not like RSL was inept going forward either. With Morales given another full offseason of work now that he's back healthy, I'd expect the attack to perk up a bit in 2012.
What they need:
RSL has some decisions to make. Ned Grabavoy, Fabian Espindola, Andy Williams, Robbie Russell, Arturo Alvarez and Blake Wagner are all out of contract, and Russell is already in DC. Grabavoy and Espindola are the priorities. Espindola is a bulldog in front of goal and understands what Kreis wants. He also shares a rapport with Morales, and I'd expect his contract to fit around the cap somehow. Kreis was not shy about keeping the shield off his guys in the expansion draft. Jean Alexandre, Andy Williams, Arturo Alvarez and Paulo Jr. were all Montreal's for the picking, but they chose Collen Warner instead. There are no tears being shed in Salt Lake, I'd imagine. RSL's primary focus should be keeping together the core under the salary cap rather than poaching big names, which can sometimes be harder than it seems.
Degree of difficultly rating:
2
Seattle Sounders
How they finished:
18-7-9; 2nd in the West; Western Conference semifinalists
Where they're good:
Seattle was still busy groveling over the loss of Steve Zakuani when well-traveled and newly-signed Argentine Mauro Rosales started kicking up a storm. The cross-happy midfielder was the league's newcomer of the year and cushioned well the loss of Zakuani, who is still in recovery mode. As of now, Rosales' contract situation is unresolved, although I'd assume some of Seattle's ample cap space will be funneled in that direction. The Sounders are still fending off intermittent international interest for Freddy Montero, who is up-and-down at worst but can be incendiary when he's on. The Sounders are loaded in the midfield, arguably more so than anybody in the league. Between Rosales, Erik Friberg, Alvaro Fernandez, Osvaldo Alonso and Brad Evans, I like all of them. I'm not picky, but it's not like I have to be with this crew.
What they need:
Tyson Wahl and James Riley were both cherry-picked around the expansion draft and Kasey Keller is off to a parcel of land at a Sun City somewhere so he can tool around on a golf cart and make catty comments at the neighbors' unkempt yards. That's somewhere in the neighborhood of $400,000 of freed up cash that Seattle can throw at somebody or somebodies. Like I mentioned, I assume some of that will go toward a deserved pay hike for Rosales. Seattle should use the bulk of the remainder on the defense. Riley and Wahl weren't exactly world class, but they were reliable bodies at the back that need replacing. Not to mention that losing a granite pillar like Kasey Keller will be a step down no matter who Seattle chooses. Drastic slashing decisions aren't necessary, so the Sounders will try to kill the offseason with 1,000 cuts.
Degree of difficulty rating:
3
FC Dallas
How they finished:
15-12-7; 4th in the West; Wild Card round
Where they're good:
FCD's nightmare scenario came true when the Season of Snapped Ankles reached reigning MVP David Ferreira. He missed the balance of the year and FCD was running on an empty tank by September without him. The good news, if you deal in silver linings and rainbows and unicorns, is that FCD has no CCL duties to worry about next year, be it in the knockout stages in the spring or in the next season's group stage that starts up in August. FCD's young contingent will have some time to come around in the offseason with Ruben Luna, Fabian Castillo and possibly Victor Ulloa looking at increased roles. FCD has prided itself on its brimming and trailblazing youth academy. Now's the time it needs to start showing up. George John cannot possibly play worse than he did over the last two months of 2011, so I assume his partnership with Ugo Ihemelu will be back to fighting strength next year. John still has a year left on his FCD contract and his downward spike will likely keep him in Dallas through the next European transfer window.

What they need: Everything depends on Brek Shea. MLS' hottest commodity is the word on the wind in Europe and the five-year deal he signed with the Hoops in May is looking like a laughably small barrier. Given that Shea is comfortable in Dallas and all the turbulence George John went through - and he has EU ties - it's no gimme that Shea makes his inevitable move in this particular January window. FCD dropped technical director Barry Gorman after less than two years, which could be an omen that a few of his poaches are on the way out as well. No position needs more work than striker. I may get some heat for this, but Ruben Luna isn't it. He's still younger so I'm sure the "wait-and-see" crowd will be down my throat (said the same things about Bobby Warshaw and I'm not backing off those either), but FCD needs a real option up top. This is a deceptively big offseason in Frisco. Some of the biggest decisions, the ones that decide which way it goes, are out of FCD's hands, which is the maddening thing about it. If Shea stays, things get a lot easier.


Degree of difficulty rating:
3
Colorado Rapids
How they finished: 12-9-13; 5th in the West; Western Conference semifinalist
Where they're good: Injuries derailed 2011. Connor Casey, Marvell Wynne and Omar Cummings all dealt with them until the wheels flew off entirely in the playoffs. The only time all 11 of the 2010 title team were on the field together in 2011 was for a portion of the season opener. The bonus of course is that 2012 is not 2011 and presumably these players will be fine when the season opens. Casey can be deadly when he's healthy, and when paired with Cummings Colorado can score goals pretty easily. The trouble has been service. Statistically Colorado was exceptional at neither scoring nor repelling goals, and it's hard to judge their 2011 season based on the injuries. But the fans have reason to be proud of a gritty group that somehow made the playoffs anyway.
What they need:
I got the feeling that this was a whip-back year for Colorado. Sagging under the weight of CCL pressures, the Rapids came back to earth somewhat after a title-winning 2010. Sanna Nyassi is gone after he was left unnecessarily unprotected in the expansion draft, and the Rapids still need a coach. Whoever slides in there can just as easily break apart the chemistry that Gary Smith built up, so that's something to watch. The Nyassi pick hurts doubly because Colorado seemingly doesn't have much in the way of creativity behind him. To put it mildly, Jeff Plush, Colorado's managing director, has some things to figure out in more ways than one. I like Jeff Larentowicz, but I'm not crazy about this group in the middle. Technical director Paul Bravo lamented losing Nyassi, but it's a funny thing because Nyassi propagated the kind of improvisational game that Colorado supposedly lacked under Smith, which contributed to his sacking. I would assume that the Rapids will be after a coach and then some creativity in the midfield, but the Colorado front office is such a clown show that it's hard to be certain of anything.
Degree of difficulty rating:
5


Up next: the rest of the West.


- Will Parchman