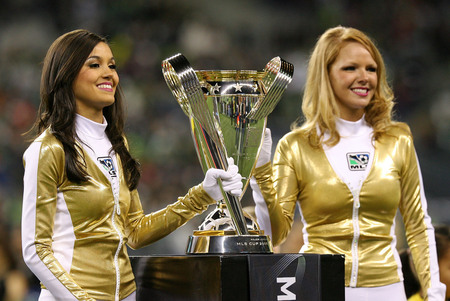 Is anyone else sick of all the conjecture? Well, got some good news for you. It's finally here.
Every time I've been ready to crown LA this week, I keep harkening back to Dallas-Colorado last year. The Hoops were fresh off a beating of the Galaxy while Colorado was the quintessential hot November team. They caught a high wave and rode it in. Regardless of how well Dallas played, an errant shot late glanced off George John's thigh and Dallas was skewered. The beautiful game is funny that way.
So I can say I'm confident LA will win, as I am in a sense, but it wouldn't really mean anything. We'll see soon enough. I'll be back after the game with some analysis, but until then, enjoy it.
- There is a San Jose thread running through tonight
- It's a battle of AEG-owned teams. Odd.
- Beckham will play tonight. Will he play beyond that?
- How Houston can win
- Brian Ching: Mr. Dynamo
- Do attendance records = a good final? We shall see.
-
Will Parchman