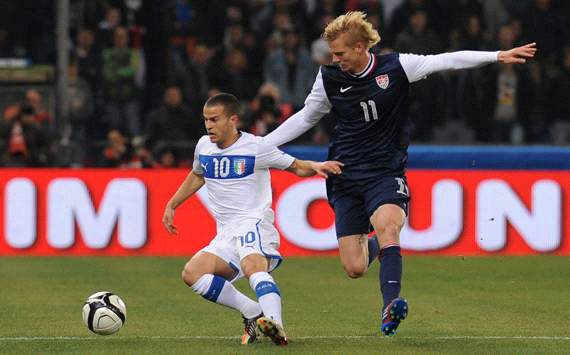 Just wanted another excuse to look at those unis
This could be a lot of fun to watch.
Forget me and forget that you're browsing the interwebs for a minute. There is no spoon. Look at this lineup Caleb Porter pushed out against Cuba, study it, close your eyes and tell me the first thing that comes to mind. Our little project commences.
Bill Hamid, Kofi Sarkodie, Ike Opara, Perry Kitchen, Zarek Valentin; Jared Jeffrey (Amobi Okugo, 65'), Mix Diskerud, Joe Corona; Freddy Adu (c), Juan Agudelo (Teal Bunbury, 45'), Brek Shea (Joe Gyau, 57')

What was yours? My response to our exercise, even before I knew the result, was the following: an unrelenting thunderstorm of apocalyptic waves of horse-riding forwards. I know, I have a ridiculous imagination.

Anyway, looking at that uppermost shelf in the set shows you how seriously Porter is valuing the attack. This is an appropriate cause to take up when the 4-3-3 is your rule. The easy play was sitting Adu in Corona's place in advanced midfield, but he shifted him upfield to make better use of his ability to play in forwards with someone pushing him from the back. Porter also more or less forces Adu's head into the water, elbowing him further up into the run of play so he has less room to disappear as he sometimes can for the Union. Smart move, I'd say.

Also, it is unfortunate to see Kitchen stuck at CB considering Ben Olsen is beginning the process of moving him to holding mid, where he should be and where his talents seem best served. I can understand the move, however, if there is some collusion afoot between Klinsmann and Porter based on need. The center back pool is decidedly weaker than the midfield, and it may be more difficult for Kitchen to displace guys like Bradley and Edu than, say, Goodson et al. But, then again, that's not Ben Olsen's problem.

The two players I think will emerge from these qualifiers, and by extension the Olympics themselves, as the most impressive without being the most known are Mixmaster Flex and Joe Corona, who put three past a lifeless Cuban side that barely lifted a finger over the final 20 minutes. But, the very best of the best will be Brek Shea. There will be no better player in qualification. Can a brother get an UNLEASH THE BREKEN t-shirt? I just pray we don't place too much emphasis on Shea busting on a bunch of young guns and then angrily extend that, quite erroneously, to his play with the Nats and his inability to bag goals. That's a losing argument and a pointless run-around that serves no purpose other than for message board blather. Don't need it.

Finally, Davis suggests #BabyNats as the Twitter hashtag for this group. I don't know why, but coming out of my mouth that sounds dirty. I'll stick to #ubros, thank you very much.

- Will Parchman