Before we get going today, wanted to give a little update on our buddies Stanislaus United Turlock Express from California. SUTE downed the Bay Area Ambassadors 3-0 on Saturday night to claim an historic berth in the USOC. With the win, SUTE becomes the first US Club Soccer team to qualify for the USOC in the 99-year history of the event. Congrats to those dudes. Now go upset some people.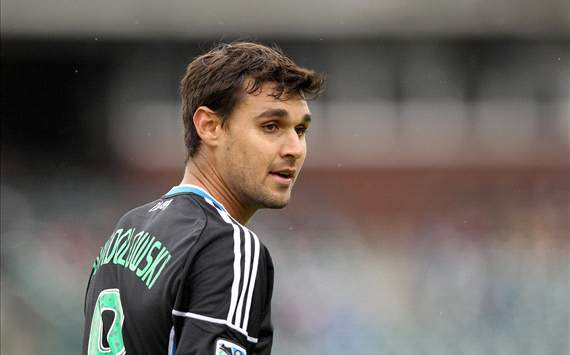 The man who would be king.
Game of the week
San Jose 2, Philadelphia 1
I would like to briefly take a moment to eulogize the collective defensive dignity of Freddy Adu and Jack McInerney, if such things ever existed.
If the reason Philly ultimately lost this game is not blindingly obvious, I will point you toward Marvin Chavez and his delicate dance around Adu and McInerney in the second minute of stoppage time with the game knotted at a goal apiece. Chavez, it seems, is going to pull America into a pretty iteration of this game of ours whether we like it or not.

Chavez's movement on the right flank was not unlike something one might expect to see at an afternoon kickabout on the dusty backstreets of a Sao Paulo favela. Yes, Adu and McInerney are not defenders. This I know. But even Carlos Valdes on his saltiest day would've been twisted somewhere into the Earth's asthenosphere by Chavez's nifty creation. He received a looping ball from Rafael Baca, an outstanding effort considering it was almost a half volley, and McInerney pressed immediately. Chavez acknowledged the threat and casually flipped to his left, away from goal, and was met by Adu, who made less of an effort to close. Chavez, never pausing, reversed back right, then back left again, then right, and then does something extraordinary. He pivots backward, away from the ball, flips the ball in the direction he cut without looking and runs back onto it in free space after executing a spin. The effect was devastating. McInerney gives us no qualms about his dexterity and falls to the ground. The other unwitting defender, Adu, is beaten just as completely. By the time he looks up, Chavez is five yards downwind.
The cross itself was just as notable. With the ball trickling away from goal ever so slowly, Chavez booms a left-footed cross across his body without taking a first touch, through the penalty area and to the back post, where Steven Lenhart is waiting. Game over. Just like that.
The goal itself was not a seminal moment in MLS history, and it will certainly not make any goal of the year segments. If it is even selected for the goal of the week video I doubt it cracks the top three. But it should be remembered for a few reasons. Fans (I won't speak for all of you but I know there are some who are with me) of this league are constantly looking for rays of sunshine breaking through the scaly armor that MLS teams have erected as a modus operandi. MLS is by and large an entertaining league, and it can produce some moments of gasping trepidation. But especially compared to the we-want-to-get-there-someday leagues with which we draw our most usual comparisons (EPL, La Liga, Ligue 1) it is not an exceptionally pretty league. It is, much like those well-worn USMNT tropes, more ball-peen hammer than French tickler. I think that is changing, but it comes slowly and in fits and starts. But moments like these remind you that small bursts of breathtaking beauty are still out there in MLS, and when they surface I always take a minute to cherish them.
The intrigue in this game ratcheted up to a fever pitch in the last 10 minutes, when both teams seemingly came to the conclusion (finally) that they were going to make it interesting. In the 89th minute, Ike Opara smashed in what looked to be the winner, but an offside call wiped it off. Minutes later Chavez was grating Adu and McInerney into a ripe gouda.


San Jose, it seems, has become a team to monitor. Closely. I say this not because they are suddenly good but because they've made you wonder how they haven't been this good all along. I have last year's napalm job in mind in particular. Why do I think San Jose has finally peeled out around the corner to an early share of the lead in the West? Yes, it has to do with Wondo, and no, probably not entirely for the reasons you're thinking. San Jose relied on Wondo so heavily last year that it crippled the rest of the offense. Watching Simon Dawkins simply shuttle a pass forward and have that I expect you to fillet that back line by yourself look was a common occurrence. What Chavez has brought, more than lightning speed, is the ability for the other nine outfield players to perk up and realize that not only does Wondo not have to do this alone, but he doesn't even need to.
Presumably having Lenhart back for an entire year should help. The tale of the tape will say, quite proudly, that Steven Lenhart won this game in spectacularly Lenhart-ian fashion. He was big-boned and clumsy and gleefully obtuse in the box, brusquely pushing through defenders and finding a pair of pinpoint crosses with his big, broad head. Big Bird is, well, he's goofy on his feet, but he's efficient. Sort of a more full-framed version of Peter Crouch. If he can keep on his feet and quit with the shenanigans, he'd have more of a shot with Klinsmann's crew. Sad thing is I don't see that conclusion coming to bear any time soon.
And that leads us to the myriad ways Wondo is making an impact this year. He sprung the attack that ultimately led to Lenhart's game-winning header by dispossessing Amobi Okugo behind the midfield stripe. As he fed Dawkins to lead the break, Wondo had the surprisingly stout Rafael Baca streaking on the left side, Chavez burning down the right flank and Lenhart beating a path dead straight toward goal. This is spacial awareness at its finest, and it caught Philly's back four out. It's not that Wondo has never fed a break before, but as a ball winner? This is a new side of the perennial MVP candidate that has strengthened this San Jose side with an adamantium spine. When you take a full three points on the road and you didn't need Wondo to score once, that's when you know the offense is settling in.
Best of the Best

- This is absolutely worth checking out.





- I realize I'm about to roast a few keepers in the below section, but I've got to give props to New York rook Ryan Meara, who has quietly been a stabilizing force in the midst of an awful defense. He had the best game of his career Saturday in a shutout win over New England. And with Henry grouchily shuffling off stage left for a few weeks, Meara just became more important than ever.




- You can blame Michael Gspurning or credit the wind, but I'm giving props to Marco Pappa for my MLS goal of the week. It bent around perfectly and dinged off the far post, and any time somebody scores off a corner it gets my attention. Especially in not-so-great conditions.

Funny enough, here's a

nearly exact replica

from FIFA 10.

A close second goes to Vancouver's South Korean import Y.P. Lee, once a marauding fullback in his prime but who can still do things like this.
Worst of the Worst
- Bad week to be an MLS keeper. I will title these three The Bad, The Worse and The Ugly.
The first two come from the same game, a thrilling 3-2 win for streaking DC United over a Houston team in the midst of a road swing. The first was a puzzling decision early in the first half from Tally Hall, who decides to charge a full-sprint Chris Pontius before he'd even reached the box. Hall predictably slides well past Pontius, who easily flicks past and centers beautifully for Maicon Santos for the opening goal. Pontius made this all look far easier than it was, I will indeed submit that. But ultimately a poor decision from Hall to fly off his line too soon.
The next one from counterpart Joe Willis was worse. Far worse. Will Bruin turned and fired a seemingly innocuous low bullet right at Willis, but he fists it into the ground and it dribbles past and into the side netting. Dave Johnson's call on this is unwittingly hilarious and telling. And yes, this is said verbatim as the play is unfolding : The shot, the save, and it's in the net. I see...
You can watch those two
here
.
The third came from LA backup backstop Bill Gaudette, who was beaten badly by a nifty flick from Blas Perez and resorted to sticking his hands through Perez's legs like a stick through the spokes of a bike wheel. Perez went down and everybody knew it was a justified penalty, which Shea converted. Too bad FCD gave up two more road points with a stoppage time equalizer that should've been cleared, oh, four or five times.
- This is about the time of year when the league's aging population of DPs begins those cherished annual rites of late Spring — nursing an injury, chugging Metamucil and popping on some Matlock.
Looks like Henry is first to the old folks' home.
This is bad, bad news for New York, which did actually earn a 1-0 shutout, though it was against a team in New England that has the consistency at forward of a blinking traffic light. And on the back of an Henry goal, no less. With no more Luke Rodgers and now no Henry for weeks, will Juan Agudelo finally feature? He's already said
he'll play midfield if needed
, though with that Neymar look he's sporting, I'd push him up top once he's ready. Especially now.
-
Chivas lost 4-0 at Colorado
. So now the Fake Goats suck at home
and
on the road. There will be blood.
- Toronto... bad to worse. Unluckiest team in the league or just the worst? Is that a chicken-egg scenario? Does that make any sense? My head hurts now. Thanks Toronto.

- Will Parchman