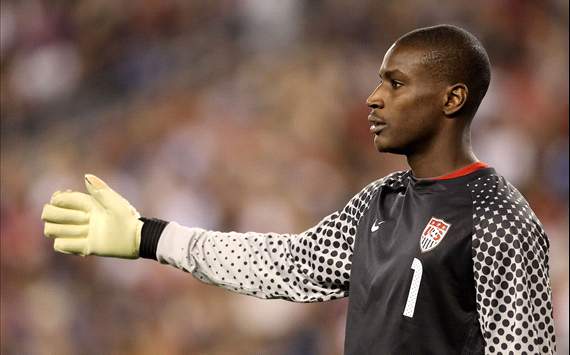 USMNT garb is a good look for DC United's Bill Hamid.
Every player expects to encounter patches of turbulence, times when the game seems to push back, but nothing could've prepped Bill Hamid for 2012.
The trouble started at the death of the Olympic qualifiers. In the final group game for the U.S. U-23 national team against El Salvador, Hamid charged out to handle a cross late in the first half and sprained his ankle. It wasn't long until El Salvador scored twice for a 2-1 lead and Hamid had to make way for Sean Johnson. With a 3-2 lead into second-half stoppage time, it seemed like a foregone conclusion that the U.S. would progress to the semis.
Later that night, Hamid was sitting on the bench with an ice pack wrapped around his ankle when Johnson let a ball slip past him in injury time to end the Olympic team's hopes of qualifying for London. The locker room was quiet. No one was moving much.
"It was difficult to deal with because you feel like you let a lot of people down, you let your friends down," Hamid told NSC. "I feel like I let my family down and every other player on the team felt the same way. It was a very sad locker room to move back to."
But Hamid's trial was only beginning. While he'd been away, DC United moved on with rookie netminder Joe Willis between the sticks. Hamid started the season opener but Willis started the next four games while Hamid was away on Olympic duty, which included a pair of shutouts. Unwilling to upset the balance, coach Ben Olsen opted to keep rolling with the hot hand even as Hamid returned to full training in time to potentially start for the New England game on April 14.
Being kept on the bench not long after being stung by Olympic disappointment was a bitter pill to take.
"It took a little longer than expected to get my form back," Hamid said. "I wasn't happy at all walking into the locker room every day. My head wasn't really into it."
As fate would have it, Olsen propped the door back open for Hamid the next month. The morning after San Jose put five goals past Willis on May 2, Hamid was told he was starting United's next game against Toronto. He didn't have much time. It was only a three-day turnaround from one game to the next, and he'd have to re-acclimate to his defenders and midfielders essentially on the plane trip from San Jose to Toronto.
Nonetheless, Hamid was back.
"(It felt) so good," Hamid said. "It was a quick turnaround, so I had to get ready real fast. We had to travel from San Jose to Toronto. Once we found out I was in goal and we all got situated again, it worked out well."
Until earning a red card in a 4-0 loss to Houston last week, Hamid started nine consecutive games and helped lead United to a 6-3-0 run that saw them leap to the top of the East. That run included four shutouts, one of which came in his first game back.
At this point in his career, Hamid is still accruing learning experiences, and the past few months certainly apply. Still, the onus of expectation yoked on the young hulking keeper is hard to ignore. So how does he feel about being labeled "The Next Tim Howard?" Is it even fair?
"It's wild," Hamid said. "I don't like being compared to Tim Howard. Tim's just my buddy, man. He's just my friend. That's an honor, but that's a lot to live up to."
The two text frequently, and Howard has taken Hamid under his wing in a sense to guide the young keeper, who many view as Howard's eventual successor.
"I ask him for advice, small things like career, contracts, coaches, how to approach things on field," Hamid said. "I need that. I feel like every young player needs that older player to mentor him through things. There's a lot of things in this business that can hurt young players."
Another mentor has been Tom Perrin, a sports psychologist who helped work Charlie Davies through a scoring slump last year. Perrin worked with Hamid after the Olympic disappointment and helped keep his spirits high through his period on the bench. Now, with his injury behind him and the smoldering remains of the Olympics fueling his competitive fire, Hamid can't help but be optimistic.
"It's made me a lot stronger," Hamid said. "I'm still a young guy and I'm still learning. I'm never going to stop learning. I'm a true student of this game. I just want to maximize my potential."
Just 21, Hamid has a wealth of time to do just that.

- Will Parchman