Wondo: The People's Champ
Chris Wondolowski is not the face of MLS. In all likelihood, at this point in his career, he never will be. Whatever that ultimately means to you, it should make you a little disenchanted. He lacks the flashy hair, the brazen step-over moves and the jazzed-up personality that so often draws the eye. He has very few baubles in his game that click in your I've-gotta-see-this response beyond the ubiquitous goals that seem to materialize out of thin air. He generally seems to spend so little time on possession that at times you wonder where he is at all, or if he can possibly be as good as his goal total leads you to believe.
And then it happens. It's almost imperceptible at first, Wondo tagging along the outside shoulder of a center back while a play builds up 30 yards to his back. He's like a kid at his mother's leg now, vibrating with movement in negative space. He weaves in and out of offside positions, constantly judging the play's gradual incline to its climax until he finally peels off his defender and whips across the penalty area like a duster across the Texas panhandle. He's there in an instant, a step inside the 6 to punish the keeper for staying on his line, the ball careening past seemingly before it even reaches Wondo's foot. The anatomy of his goals aren't always thus, but it's such a typical Wondo goal to take all the pretension out of it and just let it stand on its own. This is Wondo's legacy, as ever it shall be. This quote after the RSL game this weekend was so appropriately Wondo.
"From Sam Cronin, Rafael Baca, Shea Salinas, Marvin Chavez, Simon and Khari (Stephenson), all those guys were pure class," he told The San Jose Mercury News. "It was definitely a team effort. I thought our midfield won the game for us."
It is perhaps easy to see why Wondo has flown under best-of radars far too often in his career, though this is becoming increasingly hard to do. Even more so after his three-goal binge in a 5-0 trucking of RSL on Saturday that forced San Jose into the frontrunner spot for the West's SS candidate. I'd like for a minute to analyze Wondo's three goals and put them into a sort of perspective as it pertains to his ability to do something better than anybody in MLS currently and arguably better than anybody in the league's history. To put it very simply, he is the best poacher in league history.
Wondo is essentially an iceberg, with the majority of his game existing in this shadow realm submerged and hidden from public view. You see the depth and immensity of his game only if you dip your head under the water. Though we often award our goal of the week plaudits to the Hassli lightning bolts and the Montero thunderclaps, it is not shameful to be a master of the right-place, right-time ethos that Wondo has mastered so effortlessly. He reads the guts of the play so well, better than anybody else, and that allows him to beat everybody else to where the ball
should be
before it's ever there. He's reading tea leaves mid-play. Impressive.
Allow this to be my ode to Wondo, who has severely jeopardized Roy Lassiter's MLS single-season record of 27 goals. Wondo has already scored 17 goals in just 18 games and has 16 games to score 11 times to snag the record. At his current clip, he's going to smash it to pieces.
The first goal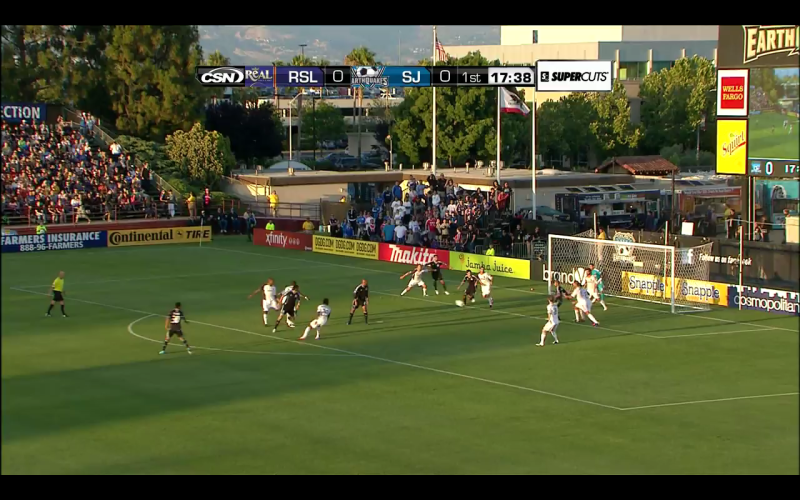 What you see here is the viscera of Wondo's first goal and that which makes him so carcinogenic to defenses. This is the result of a Marvin Chavez corner, and we get our first look at the danger Wondo poses from set pieces. He has taken up residence at the back post, but as soon as Chavez's corner (which came out a little wide) finds Alan Gordon's head, Wondo spins into a torrent of action. As soon as Justin Morrow deflected Gordon's header vaguely toward the far post, Wondo anticipates (something we see on nearly every one of his goals) and cuts inside Chris Wingert for a cool finish. Definition of read-react, and he picked his space better than his defender. All that counts.
We will see this again.
The second goal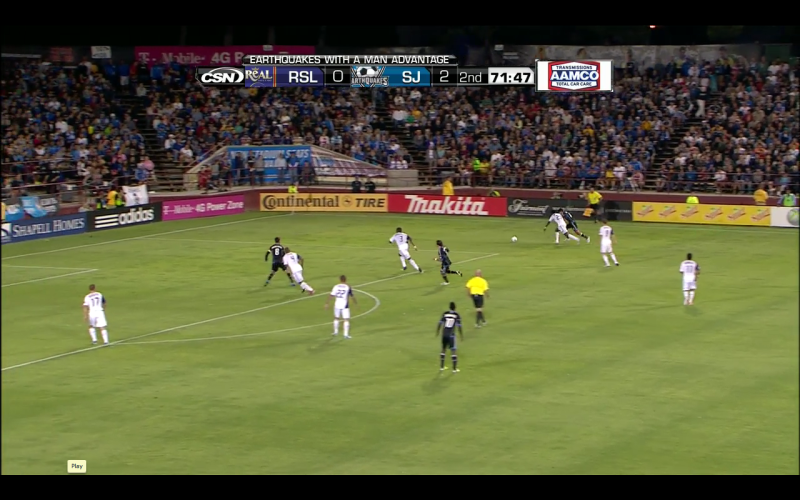 With San Jose already holding a 2-0 lead and up a man, Wondo makes a successful pass at the jugular with this impromptu stab toward goal. What you see here is Shea Salinas in the process of posterizing Kenny Mansally on the flank while Wondo vacillates between on and offside positions. This is a well-worn tactic used by Wondo, who routinely trips up center backs by dummying more routes than the defender has time to cover for. In effect, this creates a sort of house of mirrors that forces defenders to choose which of Wondo's runs is legitimate and which is faked. In hyper speed. Like so many before them, both Jamison Olave and Kwame Watson-Siriboe chose incorrectly. By the time Salinas plays in the cross, Wondo has already stepped into the breach between the two backs and, with a preternatural ability to sense pressure, chose the only clean area he could. By the time Salinas crosses the defense is already dead.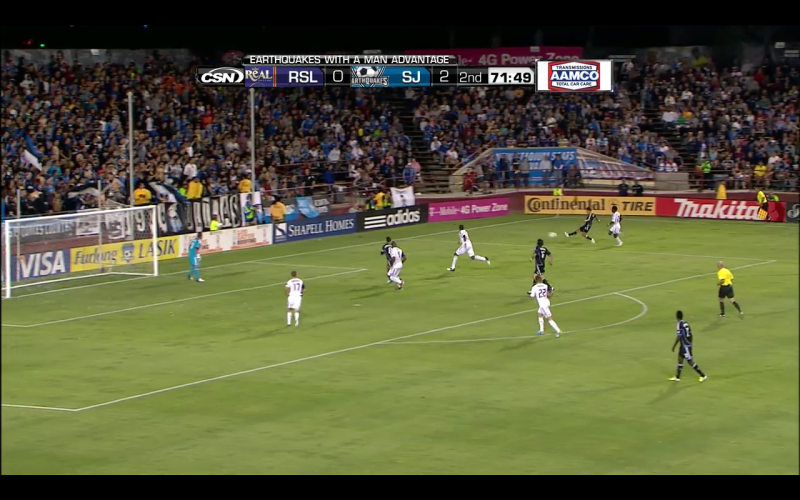 Now would be an appropriate time to break out the "high voltage" nicknames, because Wondo almost always chooses the path of least resistance. That he has had such success in finding it so often is no small feat. It is arguably harder to do this on a consistent basis, with defenses knowing your predilection for goals as well as you do, than it is to caress a wonder goal every year or two. It is certainly much more effective, and nobody does it better than Wondo.
The third goal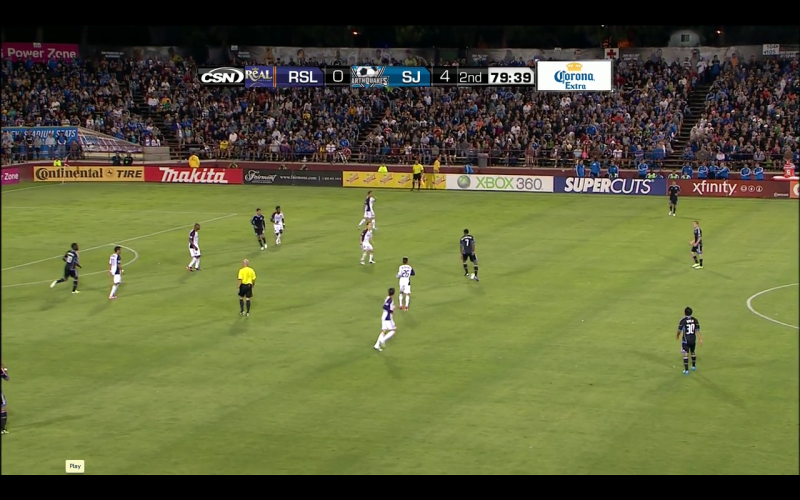 And yet we can find a third way to underscore Wondo's resourcefulness. Again, this is classic Wondo rope-a-dope. As Khari Stephenson casually finds a hole where Kyle Beckerman might have otherwise been, Wondo settles into a comfortable position between two RSL defenders. Wondo retains such a high rate of work for the full 90 that he is able to use brief moments of intermission as bait for unsuspecting defenders. While his two markers switch off for just a half second, it's all Wondo needs. Stephenson plays through a perfect ball and Wondo suddenly throws the throttle into gear and flips past his shadowing bodyguards. His cool finish into the far corner belies the difficultly of the full move, which had more moving parts than it seemed.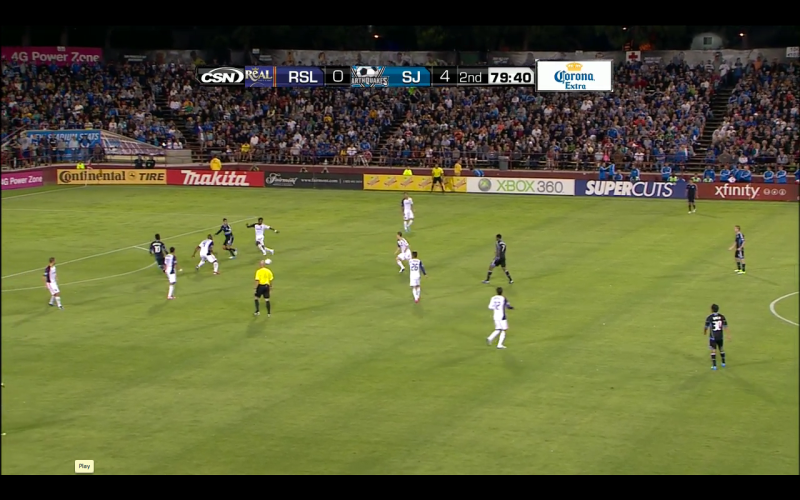 I spent an entire Grinder on Wondo this week (there were a few other storylines but none so compelling as this — c'mon, NYRB and the Galaxy both have porous defenses while Columbus, Vancouver and NE lost? Old news) because despite his growing stature he still doesn't get enough praise for the mosaic of little decisions he gets right every week. It is easier to look at the immensely trafficked goals on YouTube and forget about the workmanlike ones (how many of Wondo's can be described thusly?), so I understand it. But like I said, allow this to be my ode to Wondo. There are bits and pieces of his game that need refinement, and his puzzling form with the Nats still exhausts my capacity to believe. But that said, Wondo can still find foundational cracks and exploit them from the inside to help spearhead the best offense in the league. And that's no small thing.
- Will Parchman