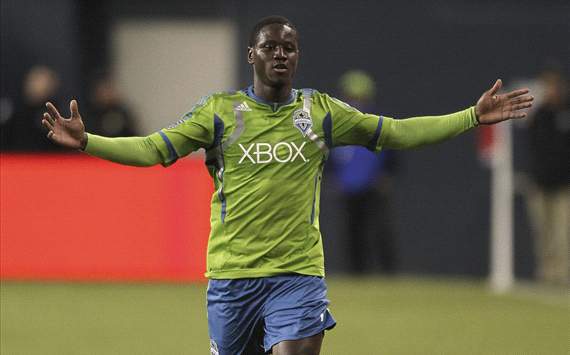 Eddie Johnson: a grown ass man?
Back in February, when the Eddie Johnson sweepstakes were burning through MLS,
I wrote this about him
. About his past, his petulance and his persistently maddening form (see what I did there?). I'd like to pull out a brief paragraph from that entry as a starting point for our journey today.
I balk at saying this is a confused man. But I think he can be impulsive, places his own value as a player on an unreachable shelf and has the mental stability of a teenager. Confidence is fine. Undue hubris is not. I also balk at saying this is a humbled man, but I don't think this is the same Eddie Johnson who turned down Derby in 2007. I don't think it's the same guy who turned down MLS last year, either. If all he wants is a shot, he's got it in our American league of redemption and second chances.
I, like many of you, watched Seattle thrash LA 4-0 on Sunday night, which was Part Deux of a brilliant two-part MLS act that took place on national television, the first being a 1-1 draw between Western bottom-feeders Portland and FCD. That excitement could probably be contained within a post more in line with
something I wrote last week
about the league's expanding cache and the heightened attention that's brought. We'll get back to Johnson, I just wanted to slow this down for a minute and remind everybody that we had back-to-back MLS games on ESPN and NBC on a Sunday night. The year 2000 called and it wants to know
what the hell happened
?
To Johnson. The guy has been a mercurial figure for the length of his career. He's played in fits and starts for as long as I can remember, and I've never seen anybody flick the switch so cavalierly to go from being completely shaded out of a game to the most menacing player on the field. But it was those moments of sizzle that captured our attention with such abandon, made us create YouTube videos with hyperbolic titles like "The Chosen One" and "USA's Next Legend." Like this one.
But did you catch the interview at the start of the video? It was no doubt included by its creator to indicate EJ had turned some kind of corner and escaped those off-field demons for good. But that always tends to be where it starts with Johnson, as it most likely always will. He's a "Yeah, but" player if there ever was one.
"He's got brilliant speed and a nose for goals. Yeah, but..."
But anyway, Johnson was anything but a sure thing entering this season. Let's not forget that a woeful run of form in England deadened his future prospects to such a degree that we were talking about career resuscitation here, and none of it was certain. And then there was the simple fact that most of us had rarely seen the guy play since he left, not an insignificant truth. As he gradually lost his toe-hold on a spot in the USMNT and fell down the ladder at Fulham and then Cardiff and Preston, most of us had no idea who would pop out of the box for Seattle. Would this be a horror show? Could Eddie still play?
The answer, of course, is yes. A big, fat yes.
In past years, Johnson's speed has always been the key piece of his repertoire, the biggest cannon in his arsenal. It was almost as though he relied on it too heavily and let other parts of his game fall into disrepair. He always reminded me of the Luis Mendoza character from the Mighty Ducks movies, the kid who could burn a hole in the ice with his speed but who couldn't do much else. Of course Johnson could finish, he occasionally wowed you with a step-over that actually came off (after the nine before it did not) and then booted a brilliantly simple chipped finish that left eyes agog. But there was a lack of cohesion between all these things that always held him back, like he couldn't fire them up at the same time. He desperately lacked the Student of the Game side, which is the glue for the other pieces he had in such ready supply.
This season has been a positive step in a few ways for Johnson. He's playing smarter, more efficiently and with more purpose. It's as though *gasp* the dude is growing up. To get a better glimpse at what I mean, let's take a look at a few important metrics for Johnson. The first, which has been arguably his most ardent stumbling block, is ball possession. Johnson is notoriously proud of his foot-over ability and equally as notorious for foolish give-aways and silly ideas that kill promising attacks. That's still there, but under Sigi Schmid's tutelage he's gradually stamping the petulance out of his game.
This first figure is a matrix from his first start with Seattle
against Colorado on April 14 in which he went 65 minutes. As we'll get to later, his heat map has no defined shape other than "attacking somewhere," and of his nine midfield possessions just two were successful. It is of note that both were free kicks. His movement was very much in line with something one might have expected from a player who'd kicked around in the wilds of Europe for years. It was tentative, unsure and largely unsuccessful. He registered just a single shot, and 13 of his 19 passes were either square balls or back passes. He completed a single forward pass all night.
Now take a look at this possession matrix from his last start
, in which he went the full 90 against LA on Sunday night and scored his 10th goal of the season. The differences here in every regard, not just in possession, are stark enough to grab you by the scruff of the neck and drive it home that something transformative is happening with Johnson's game.
It's getting smarter
. His heat map is more explosively orange here, illustrating his work rate and motor have both been fine-tuned and conformed to the system. First we see that he's limited his possession to the middle vertical slice of the field. This is important for a variety of reasons, but it seems as though Johnson has realized (or has had it pointed out to him) that he's best running at defenders with calculation, not attempting to dribble around them as the game flows. This requires the tactical discipline to stay home and an at-times painful ability to self-analyze mistakes. I can't say whether or not that's happened within Johnson's head, but it seems something got through to him in this regard. He hasn't always been doing this, and it's doubtful he was doing much of it in England.
Next, allow me to point to Johnson's distribution. When Johnson was a Nat, I remember groaning audibly when he picked up possession in traffic. He was always thinking flash and rarely substance, and sometimes that means making a boring decision. To Johnson, life on the pitch should never have been boring, and to that effect he rarely picked up his head to sweep the field for end-game possibilities other than the ones that lay at his own feet. Playmaker he was not. He still struggles with this from time to time, and I doubt he'll ever completely dump his propensity for puzzlingly selfish decisions, but allow me to go back-and-forth between the Colorado and LA games again to make my point. Once again, Johnson seems to be getting smarter.
Against Colorado, as I mentioned,
Johnson almost seemed tentative with the ball at his feet
, opting to lay off the lion's share of his meager 14 successful passes.
Against LA on Sunday night
, Johnson more than
doubled
his successful passes from that first start, upping that number to 29 while even shuttling a successful pass into the box, a serious thumbs-up move from a forward who might have been selfish in that same spot just a few months ago. While recognizing he played 25 fewer minutes in April, it's easy to see these were two different players. One important thing you'll see about Johnson's positioning in these cases is that he enjoys dropping deep to play himself forward, and his passing matrix has gotten more forward-minded. Of course he has the license to do this with Fredy Montero roaming the box, but it also provides him with a distinct advantage — I'll call it the running start mantra. Johnson's ability to run directly at defenders is a tremendous advantage, and several times Sunday night he invented space for himself by gaining a head of steam and crashing into the box with that familiar combination of speed and occasional guile. Defenders will respect you infinitely more if they have no idea what you're about to do.
All that said, I have no problem saying Eddie Johnson is generally an unlikeable character on the field. He moans, gripes, lashes out, taunts and has an emotional recklessness about him that always leaves me unsettled. Call him a "You love him if he's your guy, hate him if he's not" player if you must. Each time he reaches an adverse situation it's as though he's reaching it for the first time, all wild eyes and misplaced bravado. He's now 28. If this hasn't changed by now, it never will. The trouble with Johnson is that if you take his past as a guide, he could just as easily flip this all off and disappear again, leaving all this improvement behind like a slumped heap of trash on the side of the road. Even knowing everything I know about EJ's past, an impressive string of similar performances make this an unlikely outcome.
I have faith in Johnson. I know that can be a strange thing to say at times, but I've seen enough from him over these few months to believe, truly, that he's become a tighter player, a more complete forward and somebody who can more than adequately operate in an ordered system. I don't know that Europe is the place for him. Judging by his impetuousness at times abroad, he might have found a permanent home in MLS. Which would be a great thing for a league that appears to have welcomed back its prodigal son.
-
Will Parchman