Since putting the sword to an desolate mid-2000's run post-Lamar Hunt, Sporting KC has planted its silver-blue battle standard in the heart of the midwest and carved out the region for itself. For one, the organization is the most social media-literate franchise in MLS. Spend some time on Twitter or Facebook following SKC and its many affable arms and you'll understand. There is also a delightful sheen of levity that coats the organization. To wit, below you'll find several colorful exhibits. The first is club CEO Robb Heineman desk-treadmilling during the club's 2012 video Christmas message (Do. Not. Want.). The next few are, well, self-explanatory.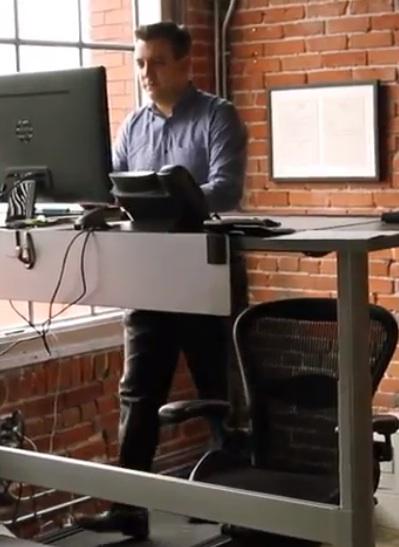 But the reason we gather here today is to recognize SKC for what it is currently — the MLS offseason clubhouse leader, and by a good margin.
If any team felt hard-bitten by the way its postseason fate was meted out, it was Kansas City. SKC set up its battlements, loaded them with canister shot and painted Houston's defenses with goal attempts in the second leg, but the damnably sturdy wall wouldn't tumble after the first goal. While yes, that did hang a bright blue sign on what ailed Kansas City last season (finishing), I don't buy that
SKC was at a crossroads
. But I do think the organization had some pointed questions to address that could've turned SKC from arguably the league's best to just a good team grinding through the playoffs (which, as we've seen, isn't always a bad way to go). And of any team facing a number of tricky personnel questions, SKC's brass has done the most robust job of answering the bell several times over.
The keystone of SKC's offseason is silky-smooth midfielder Benny Feilhaber. SKC gave up allocation money in addition to first- (2014) and second- (2015) round picks, which makes sense for a team with the number of ready-made pieces already in place at the StrongBox. What Feilhaber provides is not a like-for-like swap with Roger Espinosa, who is on his way to Wigan, but it is arguably more important for SKC's chances late in the year. Espinosa was tremendous at disrupting attacks and providing a spade the back line was able to wield in tough spots. He was excellent in transitional spaces and was good in the initial points of the buildup. But he was never much of a goal provider, and at his peak I contend that there aren't many in MLS who can do what Benny can. His up-and-down form in New England will be, I think, a smoke screen for what SKC's dangerous front line coaxes out of him in 2013. With that in mind, I think even with the fanfare surrounding this deal, it might actually be
underrated
. I think Benny can contend for the league MVP with a season not unlike Dwayne De Rosario put together in 2011, albeit with a few more assists and maybe a few less goals. Now that he's had enough time to adjust his iron sights to the league's pace, he should have little trouble picking up some slack.
And let me say this about the loss of Espinosa. SKC will not replace him with someone equally adept, but great holding mids are considerably easier to replace — and the drop-down from great-to-good considerably less steep — than are genuinely creative midfielders with the ability to craftily sneak balls through defenses with the touch of cashmere. Feilhaber needs to regain his form to prove he can do this again consistently, but it's important to note that he's done it before. And well. That should be enough to excite Kansas City.
Which brings us to the rest of SKC's offseason. Perhaps the move that crept most stealthily under the radar was the sly resigning of Matt Besler, the reigning defender of the year who has steadily, if quietly, developed into not only one of the league's best backs but one of the best central defenders in the entire United States player pool. Kansas City's front office pried him out of the waiting arms of Europe, which, depending on your viewpoint, makes somebody's future very bright indeed. That should also help soften the blow of Espinosa's departure. With Zusi and Benny running the show in the middle of the park, it's imperative that the already stout back line remain cohesive, and Besler's return assures that. Yann Songo'o, the younger brother of Portland's Franck, and young and talented defender Ike Opara, who couldn't find an opening in San Jose's crowded back line, provide needed depth. Opara is an especially good piece to have for SKC's crowded fixture list in 2013.
And then there is the latest news that broke just yesterday that SKC's newest DP is, as rumored, 28-year-old Argentinian-born forward Claudio Bieler (though he'll be 29 once the season starts). It's an interesting signing that, if you're smart, should have you in wait-and-see mode. The move has already become something of a lightning rod among some SKC fans, basically dividing them along the line of Bieler's cache. He's not a known quantity, but then neither was another Argentinian (*cough*Federico Higuain*cough*) when he entered the league, and we know how that story goes. Some prefer to go the Jeferson route, and that's OK as well. The thing though that usually sinks DP acquisitions, aside from utter lack of talent, is the presence of undue pressure that wilts careers. Bieler will arrive in KC without it. Depending on how Teal Bunbury's return from a torn ACL goes, he might not even be a first choice striker by the time July rolls around. On the other hand, Bieler may set the league alight and make Bunbury surplus to requirements at the StrongBox. Which would bring a nice ROI for the young and still-developing Bunbury.
The timing about it is hard to ignore, too. SKC are loading up while a few other league powers seem to be consolidating and rebuilding, namely Seattle and LA (though yes, these are both in the West, and Rafa leaving is addition by subtraction for Eastern Conference-mates New York). Even after the departure of the excellent Jeff Parke, Seattle's hard cap limitations will make it difficult to keep the Osvaldo Alonso-Fredy Montero-Christian Tiffert-Mauro Rosales brain trust from breaking up in some form. And LA's thinning roster needs no explanation beyond the loss of Becks and whatever the hell is going on with Landon Donovan. Those being two playoff land mines, SKC will enjoy seeing the offseason take the chisel to those talented rosters. The East, though, should regain some of its power over the West this year. Houston has largely kept its long-serving nucleus in place, New York jettisoned the ultimate clubhouse cancer and added set piece maestro Juninho (this will get confusing), and DC's young group is a year older. But would anybody look past KC to top all of the aforementioned?
It's worth mentioning that SKC won the East by five points last year. They're winning the offseason by a considerably heftier margin.
-
Will Parchman